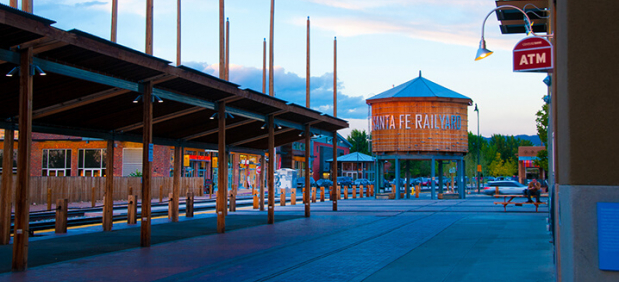 Lovingly named "The City Different" by locals, Santa Fe was voted the #1 Cultural Getaway by Travel + Leisure magazine; and for the 20th year in a row, Conde Nast readers chose Santa Fe as one of their favorite travel destinations in the U.S. We suggest experiencing the live music, world-class markets, global cuisine and historic landmarks for yourself!
Most of our favorite area attractions are within walking distance of the Inn, but we also offer a shuttle service to the historic Santa Fe Plaza and Railyard Arts District. Our shuttle, the "Sage Coach", leaves the hotel on the hour and picks up at the plaza 10 minutes past each hour.
Santa Fe Sage Inn & Suites "Sage Coach" Schedule:
Sunday–Wednesday | 9am–8pm
Thursday–Saturday | 9am–9pm
Historical Santa Fe Plaza
0.8 mi. | 63 Lincoln Ave, Santa Fe, NM 87501 | (505) 955-6200
Listed on the National Register of Historic Places, this colonial-style plaza has been a central gathering place in Santa Fe for nearly 400 years. The lively city square also includes a performing arts stage, historic monuments, restaurants, markets, art galleries, a cathedral and an urban park.


Santa Fe Railyard Arts District
0.2 mi. | 544 S Guadalupe St, Santa Fe, NM 87501 | (505) 983-9555
Named one of the '10 Best Art Districts' by USA TODAY, the Railyard Arts District, or RAD, is home to Santa Fe's leading contemporary art galleries. Explore these spacious warehouse style buildings during the Last Friday Art Walks, and be sure to swing by the lively Santa Fe Farmer's Market too.


Guadalupe Shopping District
0.2 mi. | 544 S Guadalupe St, Santa Fe, NM 87501 | (505) 983-9555
One of the oldest neighborhoods in Santa Fe, the Guadalupe District was originally a farming community that evolved into a bustling marketplace where trains delivered tourists and goods. After a resurgence from the art community in the 1960s, it's once again a hip enclave of unique gift shops, clothing stores and cafes.


Lensic Performing Arts Center
0.7 mi. | 211 W San Francisco St, Santa Fe, NM 87501 | (505) 988-1234
The 821-seat Lensic Theater offers over 200 annual events in dance, music, opera, and film. Designed by the Boller Brothers of Kansas City, this state-of-the-art performing arts center shines with stunning Moorish and Spanish Renaissance style architecture and interior accents.


Palace of the Governors
0.9 mi. | 105 W Palace Ave, Santa Fe, NM 87501 | (505) 476-5100
This adobe structure, originally constructed in the early 17th century, served as Spain's seat of government in the Southwest. Now the state's history museum, the Palace of the Governors was designated a Registered National Historic Landmark in 1960 and an American Treasure in 1999.


Canyon Road Art Galleries
1.1 mi. | Paseo de Peralta to Palace Avenue on Canyon Road
Boasting over 100 art galleries, studio spaces, boutiques and cafes, it's easy to encounter an array of established and emerging artists along this picturesque half-mile stretch. Take a leisurely stroll through the foothills of the Sangre de Cristo Mountains, stopping to eat, shop, and explore along the way.


Museum Hill
2.1 mi. | 710 Camino Lejo, Santa Fe, NM 87505 | (505) 984-8900
Explore four world-class museums (the Museum of Spanish Colonial Art, Museum of Indian Arts & Culture, Museum of International Folk Art, and the Wheelwright Museum of the American Indian) stroll through beautiful botanical gardens, and enjoy an al fresco lunch at the Museum Hill Cafe.


Ski Santa Fe
16.5 mi. | NM-475, Santa Fe, NM 87501 | (505) 982-4429
Elevate your vacation with a ski experience you and your family will never forget. Just a short drive from the city, Ski Santa Fe offers lift tickets, season passes, ski lessons and equipment rentals – plus exciting seasonal events with live music, alpine sports, brand name sponsored activities, food, beer, and much more.

Bandelier National Monument
40.9 | 15 Entrance Rd, Los Alamos, NM 87544 | (505) 672-3861
Encompassing 33,677 acres of rugged canyon and mesa country in Los Alamos, New Mexico, The Bandelier National Monument preserves the homes and territory of Ancestral Puebloans in the Southwest, who lived in the canyon cliffs from approximately 1150–1550.

Santa Fe Opera
7.1 mi. | 301 Opera Dr, Santa Fe, NM 87506 | (800) 280-4654
Set on a woodsy hilltop surrounded by the Sierra mountains, the famed Santa Fe Opera house features classic pieces and contemporary works. The structurally stunning venue has a roof but no walls, so that performers and audiences are subtly exposed to the natural elements while taking in the world-class shows.


Meow Wolf
3.7 mi. | 1352 Rufina Cir, Santa Fe, NM 87507 | (505) 395-6369
Meow Wolf's House of Eternal Return in Santa Fe, NM, is an immersive art installation filled with technology and fantastic environments to inspire visitors of all ages. This imaginative art space is a collaboration of over 100 local artists and is a unique combination of children's museum, art gallery, jungle gym, and fantasy novel.
Thank You