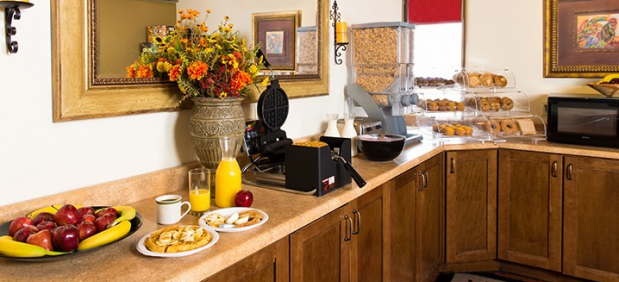 1 | Xperience Xclusives
A stay at Santa Fe Sage Inn comes complete with Xperience Xclusives including Wi-Fi, local shuttle service, daily buffet breakfast, on-site dining, a heated swimming pool and more. Click here for a full list of amenities.


2 | Genuine Guest Service
From our friendly reservationists to our knowledgeable 24-hour front desk staff, you'll encounter smiling faces from the moment you step into Sage Inn, until the time your Santa Fe trip comes to an end. Contact us today!


3 | Stylish Guest Rooms & Suites
Whether you're flying solo or traveling with family and friends, our cozy guest rooms and modern suites can accommodate various-sized groups. We also offer pet-friendly rooms and accommodations for extended stays. See all room types.


4 | We Keep Your Vacation Budget in Mind
Sage Inn offers book direct benefits and seasonal specials to help stretch your hard earned travel dollars. With modern accommodations and thoughtful amenities, you'll feel right at home in our stylish Santa Fe hotel. Start saving now!


5 | An Incredible Central Location
Centrally located in the heart of Santa Fe, Sage Inn is close to the city's top area attractions, historic landmarks, shopping and dining districts, popular entertainment venues and art galleries. Discover Santa Fe today.
Thank You