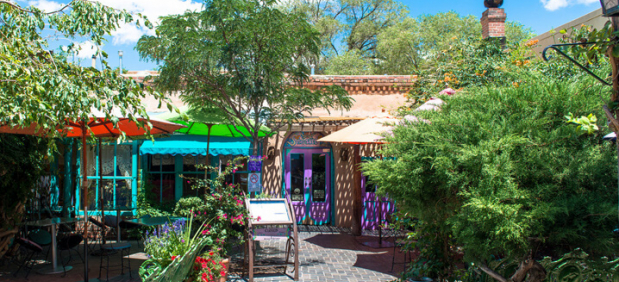 Santa Fe is the perfect playground for food and wine connoisseurs, and guests of the Sage Inn will be delighted by the variety of cuisine found around town. The owners of the Inn are local boys that know where to find the best food in Santa Fe, aside from our onsite restaurant and lounge, Derailed. We encourage you to try New Mexican and American fare to find your personal faves.
The Shed
1.2 mi. | 113½ East Palace Avenue, Santa Fe, NM, 87501 | (505) 982-9030
Awarded the "Best Red Chili" for over a decade, The Shed serves up creative New Mexican cuisine in a circa-1692 hacienda with a cantina-style bar. Family owned and operated since 1953, this go-to spot for classic Southwestern fare makes a mean burritos, flavorful enchiladas, and frosty margaritas.
Jambo Cafe
2.4 mi. | 2010 Cerrillos Rd, Santa Fe, NM 87505 | (505) 473-1269
Featured on Food Network's "Diners, Drive-ins and Dives" and winner of the "Best Soup" at the Souper Bowl for four years in a row, Jambo Cafe is known for their flavorful international cuisine. Jerk chicken, goat stew, meat pies and curry wraps are all inspired by African, Caribbean, Indian and European influences.
El Mesón Restaurant & Tapas Bar
1.1 mi. | 213 Washington Ave, Santa Fe, NM 87501 | (505) 983-6756
Aside from a highly-trained staff and a chef from Spain, highlights of El Mesón include a vibrant Spanish tapas bar, a fine wine bodega, and live entertainment ranging from flamenco to blues to tango to jazz. Signature paellas and sangrias are inspired from Andalusia, Catalonia, Madrid and the exotic regions of Spain.